Posts Tagged 'mobile advertising'
With 91% of consumers having their cell phone within reach 24/7, it's no surprise that mobile marketing is on the rise.  In fact, according to Ask Your Target Market's latest survey, 33% of consumers are interacting with text message marketing.
Of those interested in mobile advertising, 29% said they would like to receive exclusive coupons, 18% would like information about in-store sales, 12% would like information about new products, 3% would like generally company updates, and 56% would like other information as a text message.
With 94% of all text messages being opened immediately upon receipt, text message marketing is easily the most efficient way to target consumers.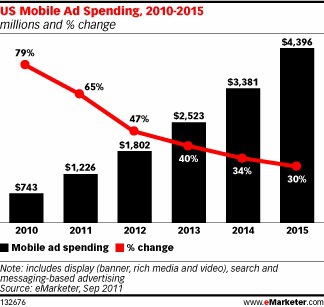 Earlier today, eMarketer released a study that estimates advertisers will spend $1.23 billion on mobile advertising in the U.S. market in 2011. This year will be the first time the mobile ad industry has passed the one billion dollar mark. This unprecedented amount represents a 65% increase over the $743 million spent in 2010 on mobile advertising.
The study also estimated that by the end of the year the number of Americans with a smartphone will be 38% and 41% of mobile users will use mobile Internet at least one time per month. The increased number of smartphones and mobile Internet usage equate will equate to higher mobile advertising spend in the near future. The eMarketer study predicted that mobile ad spend, which includes ads viewed on both mobile phones and tablets, will grow according to the above chart.
The numbers include money spent on display ads, search ads, and mobile video ads, but does not include money invested in text message marketing on sites like 84444.com. The fastest growing mobile ad segment, mobile video ads, is expected to account for $57.6 million of the $1.23 billion mobile advertisers spend in 2011. However, that number is expected to grow at a 69% compounded annual rate through the year 2015. In fact, by 2015, advertisers are expected to spend approximately $395.6 million annually on mobile video ads.
Although advertisers have traditionally hesitated to spend large amounts of their budgets on mobile advertising, this study indicates that resistance is diminishing. With the number of consumers accessing the Internet through mobile devices steadily increasing and advertisers allocating more funds to mobile ads, there is no reason to doubt the data in this study.
Mobile ad spending in the USA is expected to grow to $4 billion in 2015.  That is up from just $790 million in 2010, according to the latest forecast by BIA/Kelsey.
One of the key drivers of that growth will be local mobile advertising.  These are Mom and Pop stores that are just getting into the act with text message marketing, mobile web sites, and apps development.  By 2015, local mobile advertising will be $2.8 billion, or 70% of the total mobile ad pie.
Most local restaurants and businesses simply don't know that mobile advertising is so cheap with the most important aspect of local mobile being text message advertising.  But, once local advertisers try it, they continue using it.
Mobile marketing has never been hotter than during 2010, but it won't hit $1 billion in sales until next year.
So, if you think mobile has been hot in 2010, I'll bet you can't wait for 2011.
Mobile advertising spend is up $416 million in 2010 versus 2009–a whopping 79% gain.  Next year, a similar increase will bring the mobile advertising industry to in excess of $1.1 billion, according to a study by eMarketer (Sep 2010).
Text message advertising remains the top producer this year, estimated to be a $327 million industry.
Recent statistics show the expected increase in radio advertising for 2010. Previously, in 2009 radio advertising took a turn for the worse, decreasing by 17.7%. According to media researcher, SNL Kagan, the drop took revenues to $16.0 billion.
This year, the broadcast industry is back in business with the expected increases for radio ad revenues. SNL Kagan says radio advertising will rise 6.4% to $17.1 billion. They also foresee a rise in the next six years of 15% to $552 million for radio, and $19.8 billion in advertisements.
The total increase in radio revenues includes advertisements online. Along with online ads,
mobile marketing
has the ability to enhance this rebound in radio advertising with additional sources of NTR.  Do-it-yourself mobile marketing provides the radio station with the ability to create an
opt-in database
. You must have permission or an existing relationship with a consumer to send mobile marketing messages to his or her cell phone. And, that's precisely why mobile marketing works so well. With opt-in marketing, consumers have actually requested to receive your marketing messages, increasing the stations ability to promote their business.
Reaching your best customers with a personalized mobile message has never been easier or more economical than with do-it-yourself mobile marketing tools provided by
Advanced Telecom Services
based out of Wayne, Pa. Radio stations can create easy to manage voting, sweepstakes, contests, and much more.
This revenue bounce back in 2010 for radio advertising could only be increased with mobile marketing. The cheap, efficient way to promote your station through personalization with your consumers is easy to use; and only beneficial.

Today, out of women from the ages 16-54 who use mobile devices, 93% say they are on the lookout for bargains and mobile coupons.  Retail companies are continually looking to please the consumers by giving them what they want.  Through survey,  68% of women have said that they are fascinated by the idea of receiving discounts via their mobile devices.  Approximately 53% of women say they are most interested in retail coupons, followed by approximately 16% interested in dining coupons.  These women in search for special offers come from the 94% of women who browse the mobile web at home daily.
Mobile Ads have also become frequent amongst women.  When asked if they have ever clicked on a mobile ad, out of 875 responses, approximately 57% responded yes, 28% responded no, and 15% were neutral.  Women are increasing their attention on the advertisements within the mobile web.
Among women, Facebook and Yahoo are the most popular, leading to research on the commonality of internet usage.  This internet usage then leads to the frequency of mobile web usage. Women are already engaged and interested in exploring all of the new mobile services on the mobile web provided today given their interest in the internet.  These mobile devices are extremely important in connecting retail brands with their customers in which women find themselves paying attention to.
With more and more people beginning to use their mobile phones for services that extend far beyond just voice messages and conversations, mobile phones are becoming an effective tool of mobile marketing for saving money. One of the significant ways of saving money through your phone is through the use of mobile coupons.
A mobile coupon is an electronic ticket that can be exchanged for a financial discount or refund when buying a product. A mobile coupon is primarily issued by manufacturers of consumer packaged goods or by retailers, to be used in retail stores as a part of sales promotion, especially through mobile advertising.
Mobile Coupons Benefit Everyone
Advantage to the Consumer
A print coupon can get lost in so many different places.  On the other hand, since mobile coupons are stored in a device that you carry with you 24/7, it is nearly impossible that you would lose mobile coupons. Another advantage to consumers is the fact that everyone has text message functionality on their phone…compared to being on a computer where many do not have printers.
Mobile coupons also help you save time as you are able to search for discounts even when you're waiting in lines or using public transport. Also, you can look for mobile coupons so that you can conveniently save money on every purchase. Mobile coupons can be tailored to suit your personalized and customized tastes.
Advantage to Mobile Advertising
There are a whole lot of benefits for the advertisers as well. They can promote mobile coupons anywhere!  Not just in print or online. As long as the call to action is clear, the coupon can be obtained by the audience.
Mobile coupons also promote interactive marketing. Mobile advertising gives the opportunity to ask consumers if they are interested in receiving future mobile offers or coupons. Also, as advertisers use text message for marketing or sending coupons, they save a lot of money on printing.
Advantage to the Environment
With coupons sent to mobile phones, there is no paper and no garbage to pollute the environment. Also, when you're not printing out coupons, you're saving trees. And when you're using a small device instead of a big computer to search for online coupons then you are also saving energy. If you are not happy with the mobile coupons, you can simply delete them.
The Future of Mobile Coupons
There are quite a few things that we can expect to happen with the future of mobile coupons. We might see a rise in the number of businesses that are marketing to their customers with mobile coupon offers. Additionally, we might see the growth of numerous mobile marketing applications designed to increase the efficiency of delivering and redeeming mobile coupons.
Finally, we will most likely see a considerable growth in the interactive capability of mobile coupons as this area of web technology develops.
According to an article in Fierce Wireless, the outlook for mobile
advertising is bright.  There is a significant move by advertising agencies to get involved with mobile marketing.
Mobile spending by advertising agencies will increase in 2010.  31 % of agencies indicated that they will invest $100,000 to $250,000 in 2010.  15% of advertising agencies plan to invest more than $1,000,000 and 2.6% will invest more than $5 million.
Of the 100 leading advertising agencies in the nation, 75 have developed mobile marketing elements to their advertising campaigns for clients.
The best news is that mobile advertising is working for the advertising agency users.  78 % said that their mobile advertising programs met their expectations and 9 % said that mobile advertising was "beyond our wildest expectations."
Starting a WAP site is a low risk, low cost way to engage consumers and use mobile marketing.
A WAP site makes your company easily accessed by mobile internet devices. If you don't have a WAP site,consumers cannot access your company's website from their smartphone.
A recent study from ExactTarget found that three quarters of consumers would rather receive advertising messages through SMS marketing campaigns than any other channel.